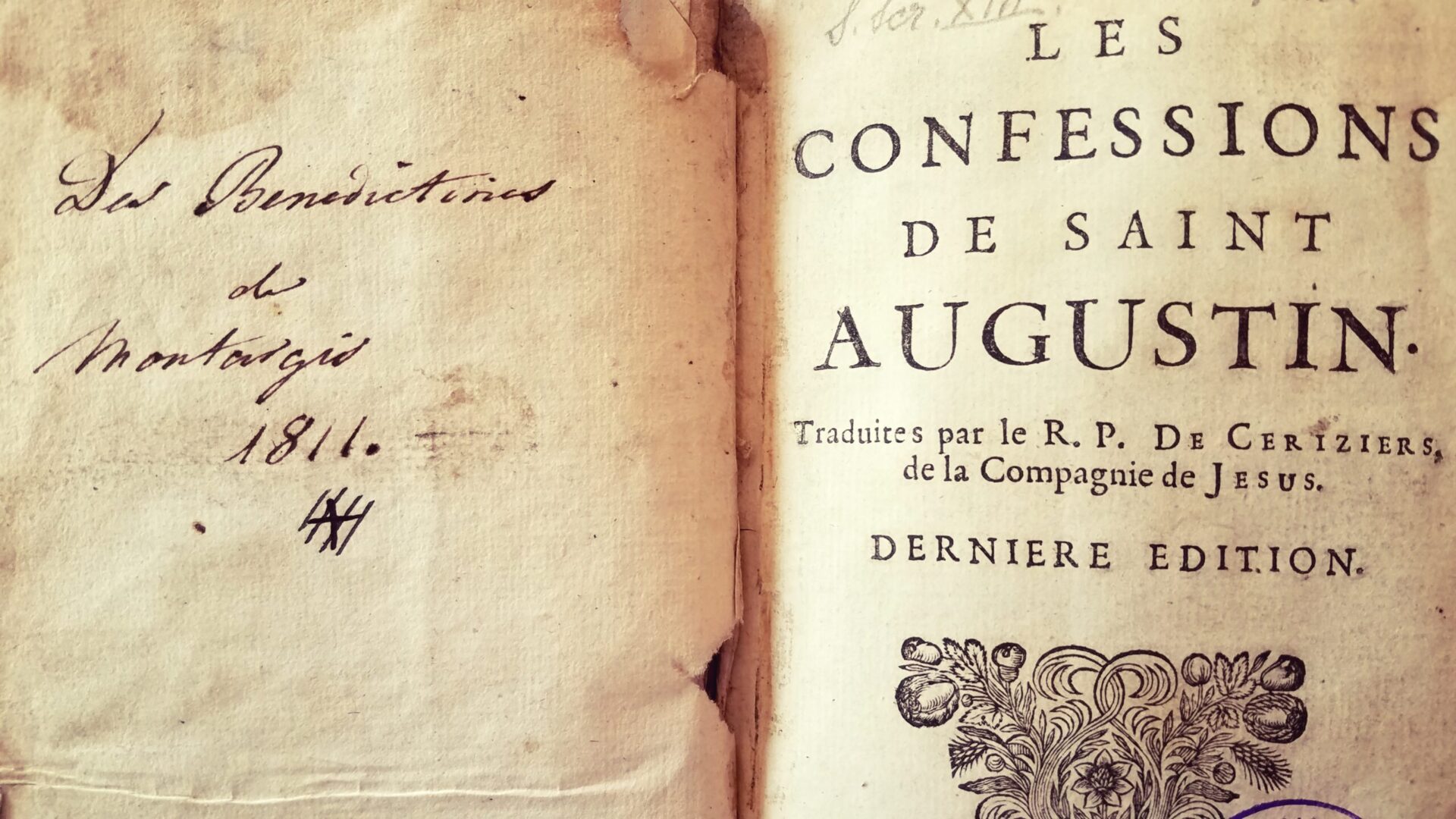 And this, our life, exempt from public haunt, finds tongues in trees, books in the running brooks, sermons in stones, and good in everything.
William Shakespeare, As You Like It
And this, our life, exempt from public haunt, finds tongues in trees, books in the running brooks, sermons in stones, and good in everything.
William Shakespeare, As You Like It
MONK SOUP – ZUPPA DI PASTA E FAGIOLI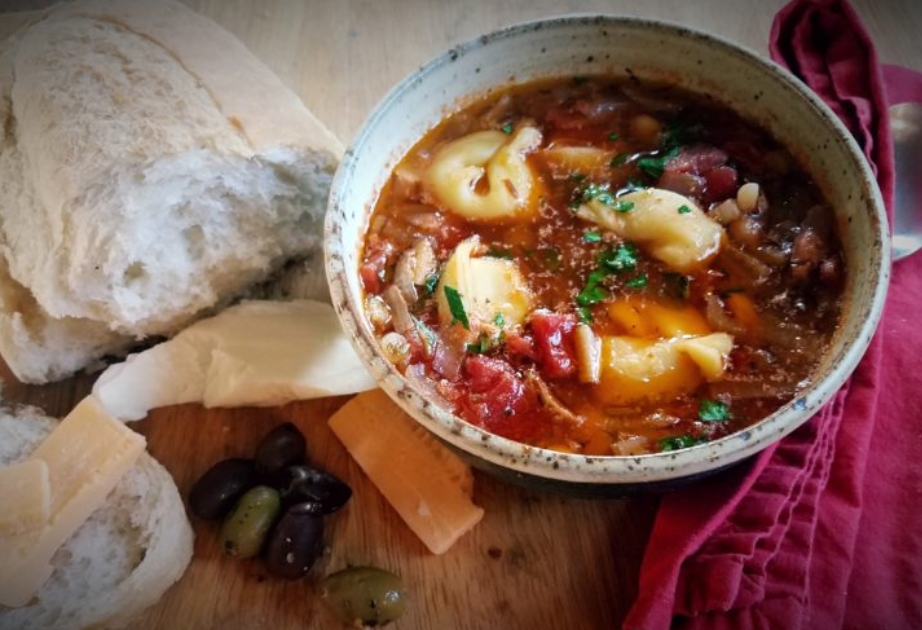 Monk Soup – Zuppa di Pasta e Fagioli
As a momma of three who has been homeschooling for twenty-five years, I discovered early on that the unit study was the best fit for my family of creatives. If WWII was the topic, we planted a few Victory Garden plants, listened to old radio shows, played the music and movies, and prepared the recipes. Immersing ourselves into the era was like time traveling! When we studied the medieval period and early church history, I pulled Brother Victor-Antoine d'Avila-Latourrette's cookbook Twelve Months of Monastery Soups off the shelf and researched what the brothers might enjoy on a cold night. The book features recipes that are simple and hearty, and served by Brother Victor at the monastic table at Our Lady of the Resurrection Monastery in New York.
My kids chose this recipe for Zuppa di Pasta e Fagioli because of its similarity to another family-favorite Italian dish called Pasta Fagioli (fa-ZOOL). We christened our medieval selection 'Monk Soup.' Our version uses homemade chicken stock, but this wonderfully flexible soup can be vegetarian if you use a vegetable broth, and vegan by leaving out the Parmigiano-Reggiano. I serve the soup with rustic bread, olives, special deli cheeses like sharp cheddar and brie, speck ham, and a shallow bowl of olive oil and herbs.
You use:
1-2 medium-sized onions, finely chopped
½ c. extra virgin olive oil
4 garlic cloves, chopped (I use 8-ish. Italian families double the suggested amounts of garlic!)
1 28-ounce can chopped Italian tomatoes with the juice
1 bay leaf
1 teaspoon dried or fresh rosemary, chopped
1 teaspoon dried or fresh basil, chopped
¼ c. fresh Italian parsley, chopped
4 cups (two cans) cannellini beans, drained and rinsed
6 cups stock (chicken or vegetable)
1 c. dry white wine
salt and freshly ground pepper to taste
1 box or bag of your favorite orzo, ditalini, or tortellini
Grated Parmigiano-Reggiano and additional olive oil
Note 1 – We use homemade chicken stock. To make a batch, save the bones from a rotisserie chicken. Place them in a pot with a quartered onion and a carrot or two, cover with water, and simmer for about two hours. Strain and use immediately or freeze for later.
Note 2 – Amounts of garlic and herbs are to your taste. Wine is optional.
Note 3 –  Cook the pasta in a separate pot, not in the soup, or the broth will become starchy and the pasta will overcook.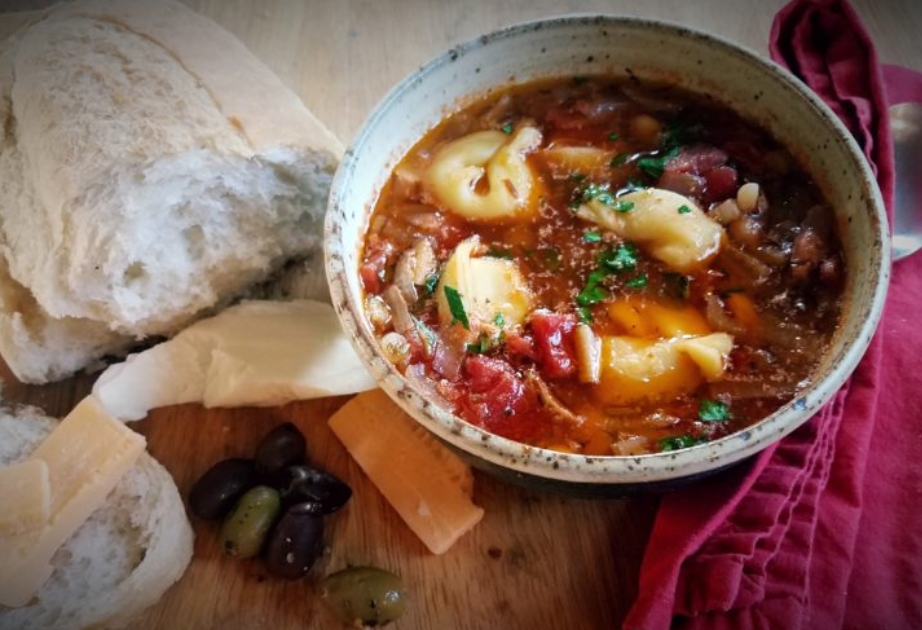 You cook:
First, sauté the onion in olive oil in a large stock pot until soft, then add garlic and cook for 3-4 minutes more, stirring continuously.
Add the chopped tomatoes with their juice, bay leaf, rosemary, basil, and parsley. Cook over medium heat for about 5 minutes or until the mixture attains a smooth, thick texture. Stir often.
Add the beans, stock, wine, salt, and pepper. Stir slowly and bring to a low boil. Turn down to simmer and cook 15 minutes more, stirring occasionally. Turn off the heat, remove the bay leaf, cover the pot, and let the soup rest for another 10 minutes.
While the soup is resting, prepare the pasta in another pot according to package directions. Drain and return to its cooking pot, adding a small scoop of broth to prevent pasta from sticking together.
To serve, scoop pasta into a soup bowl and ladle soup over the pasta. Sprinkle with cheese, a pinch of chopped parsley, and drizzle a bit of olive oil over the top.
Serves 6
Download the recipe!
First published online in The Cultivating Project, January 28, 2020.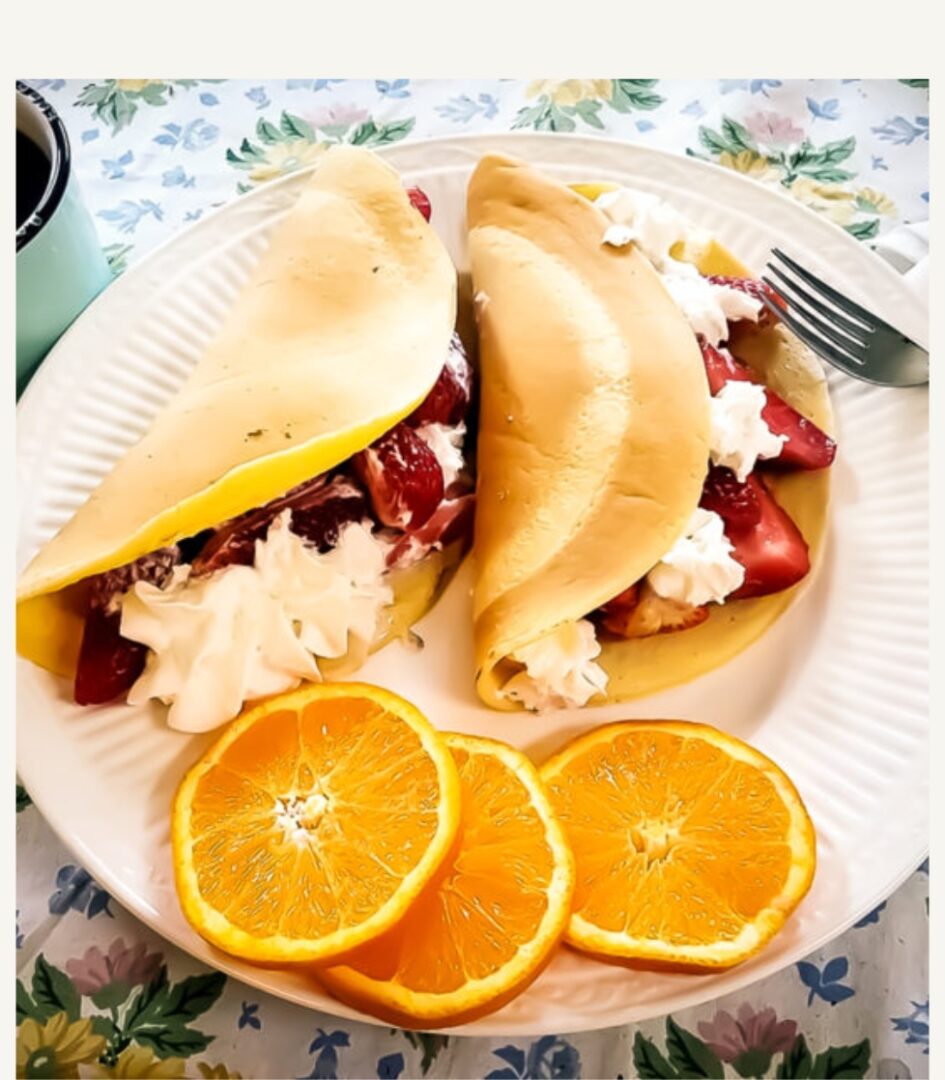 I have two bookcases in my kitchen that are filled with cookbooks, as well as a few more shelves and stacks of culinary themes and food history and even a few etiquette books in the rest of the house. At least 100 of them are vintage-era dating back to the late 1800s through the 1960s. I find cookbooks one of the more relaxing of reads. Filled with possibilities and pretty pictures, they make no demands of me other than a visit to my local market. There is a certain charm about old recipes found between worn, food-stained covers. The notations in pencil made by the previous owner and random drips of batter and butter mark a recipe as a time-honored classic.
A few of my classics came from my mom's kitchen. As I helped her purge the cookbook shelf in her cupboard, we filled a box of her favorite cookbooks and boxes of recipe cards to bring back to my home. One of those well-loved treasures was a soft-cover "Spin Cookery" booklet from 1966 that came with her Osterizer blender.  On a wrinkled page stained by egg yolk and milk, I found one of our favorite Sunday night treats from when I was a little girl. I remember Sunday nights as set apart from the normal weekly meals of roast and burgers. Mom would make creamed shrimp on toast or we would pull out the fondue pot and fry cubes of steak in hot oil. Her blender crepes were a spring recipe and fairly exotic compared to the regular Midwestern fare. Dad and I would go out to the garden and pick a bowl of juicy red strawberries, tiny raspberries, and dark purple blackberries. These yummy fruits would be folded into the crepes, then topped with whipped cream and a sprinkle of powdered sugar. Dessert for supper? Yes!
French Pancakes (Also known as Bubbi's Blender Crepes)
Makes 8 7" pancakes
Ingredients:
3 eggs
1 ½ cup milk
1 T melted butter
1 cup sifted flour
½ tsp salt
Put all ingredients into a blender in the order listed, cover, and pulse or process on low until smooth. Heat a non-stick skillet, brush with melted butter, and pour in enough batter to cover bottom of the pan, leaving enough space to be able to flip the crepe. Tip and roll the pan if necessary in order to spread the batter thin and evenly. Brown on one side. When top is nearly set, flip pancake over. Keep warm on a pizza stone or tray in a 170 degree oven until all are made. These can also be served cooled for dessert.
Fill with fresh berries, Nutella, sliced bananas, whipped cream, fruit compote. Roll them up and sprinkle with powdered sugar.
https://thecultivatingproject.com/french-pancakes/
First published online in The Cultivating Project, April 15, 2020.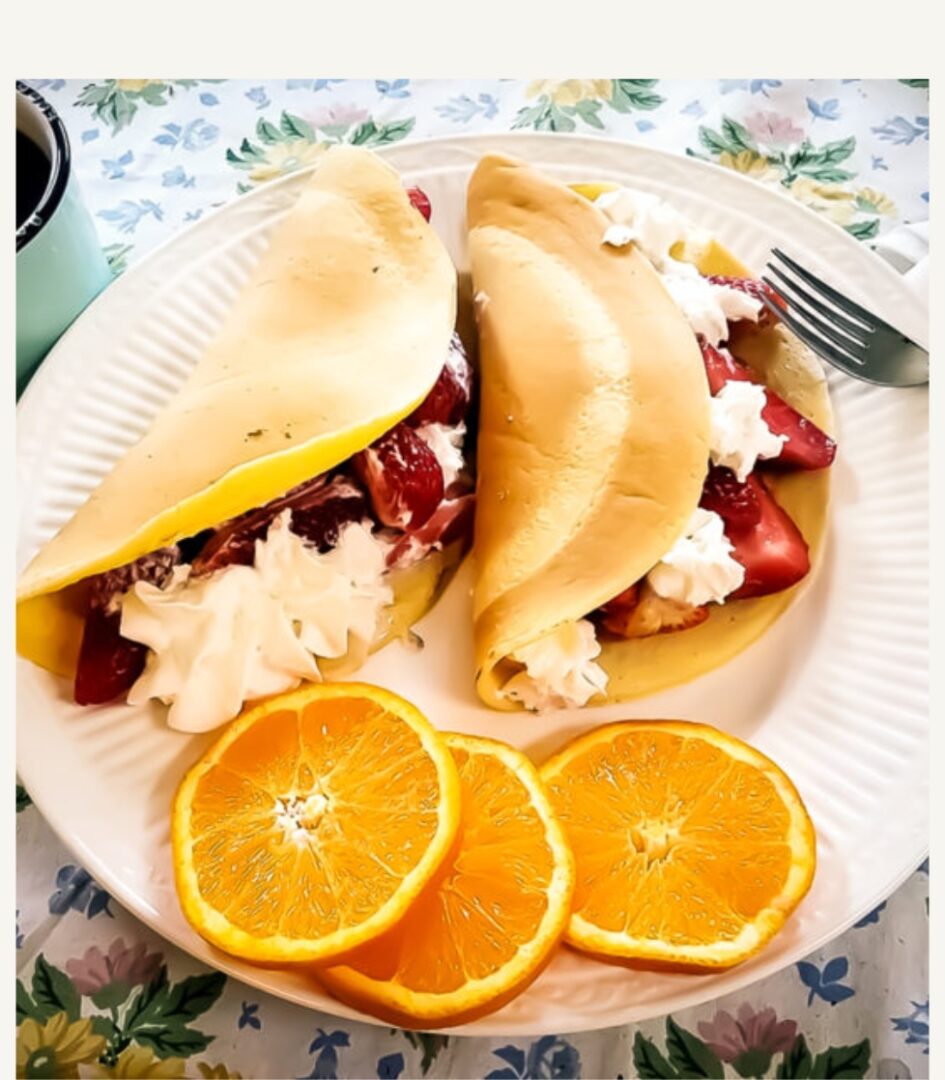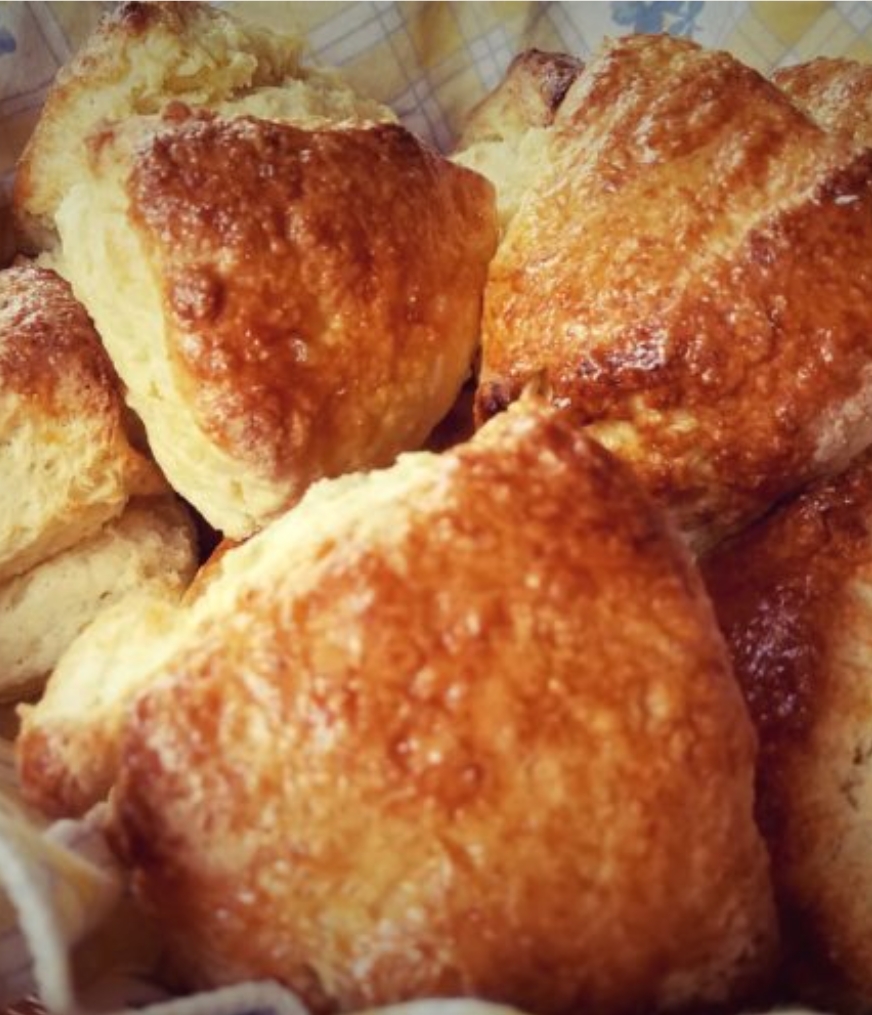 Many years ago, my kids received a Star Wars cookbook that came with tiny cookie cutters shaped like Yoda, Darth, and R2D2. Clone Scones was the favorite out of all of the recipes, so this stellar army of buttery goodness appeared at every sleepover. Warm homemade scones topped with marmalade or strawberry jam and a thick swipe of Irish butter were a special treat for kids.
I found the following recipe in an old cookbook and it has always turned out perfect scones. They are quick and easy to make! The sleepovers have stopped over time, so the new tradition is surprising my grownup friends with golden scones and a jar of jam or lemon curd, lightly covered with a bright napkin and tucked in a basket.
Friendship Scones
Recipe for 12
Gather: 
3 cups bleached all-purpose flour
¼ cup sugar
1 tablespoon baking powder
½ teaspoon salt
5 tablespoons cold, unsalted butter
¾ cup currants or other small, dried fruit (optional)
2 eggs
¾ cup milk
Egg wash: 1 egg well beaten with a pinch of salt
Baking stone (ideal) or cookie sheet (covered with baking parchment).
Do: 
Set the oven rack at the middle of the oven and preheat to 450 degrees.
Combine the dry ingredients in a large bowl.
Cut the cold butter into 12 pieces and rub it evenly into the dry mixture until it has a cornmeal texture. (I use a pastry blender)
Add dried fruit, if desired.
Whisk the eggs and milk together and stir into the flour/butter mixture with a fork to form smooth dough.
Remove from the bowl to a floured surface and give it a light kneading 3 or 4 times.
Divide the dough into 3 pieces and pat to form thick, 5"-ish discs. Using a sharp knife, cut each disk into quarters, separating them on the stone or pan.
Apply egg wash to top and sides of each scone.
Bake the scones for 10-15 minutes, until they are golden and firm.
Serve with good butter, favorite jam or curd, and a pot of tea.
https://thecultivatingproject.com/friendship-scones/
First published online in The Cultivating Project, April 15, 2020.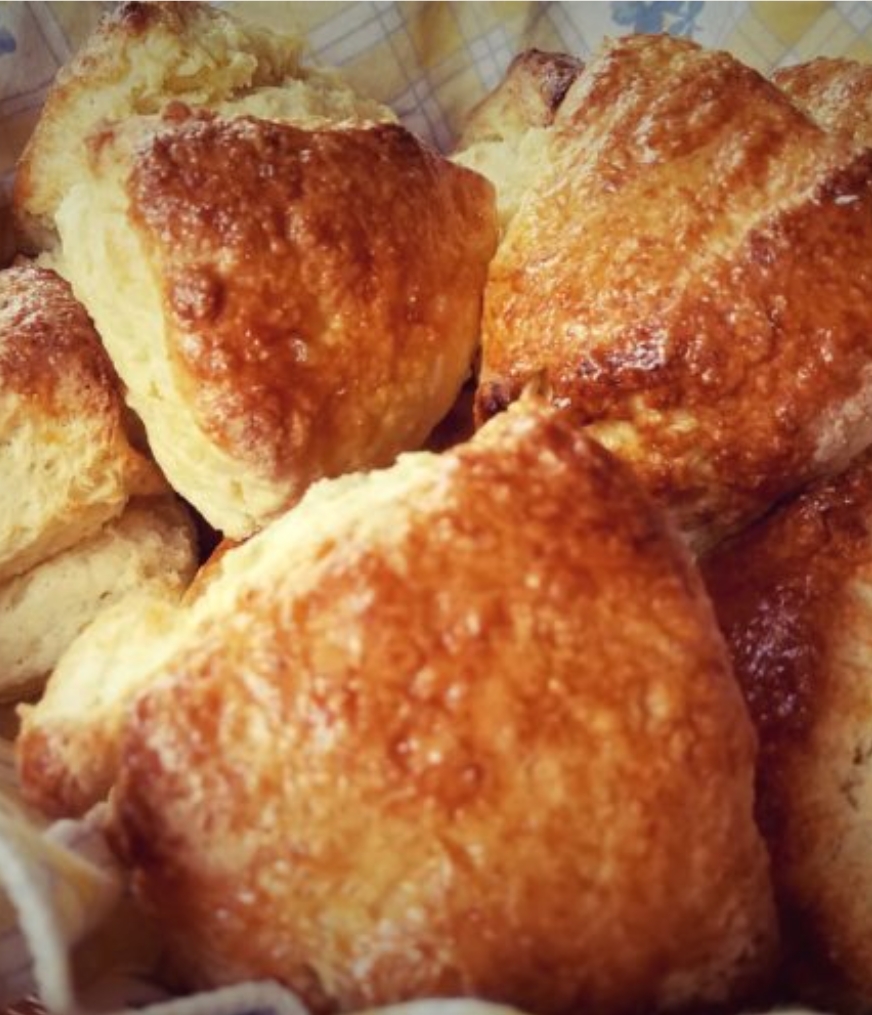 SUMMER'S STRAWBERRY SHORTCAKE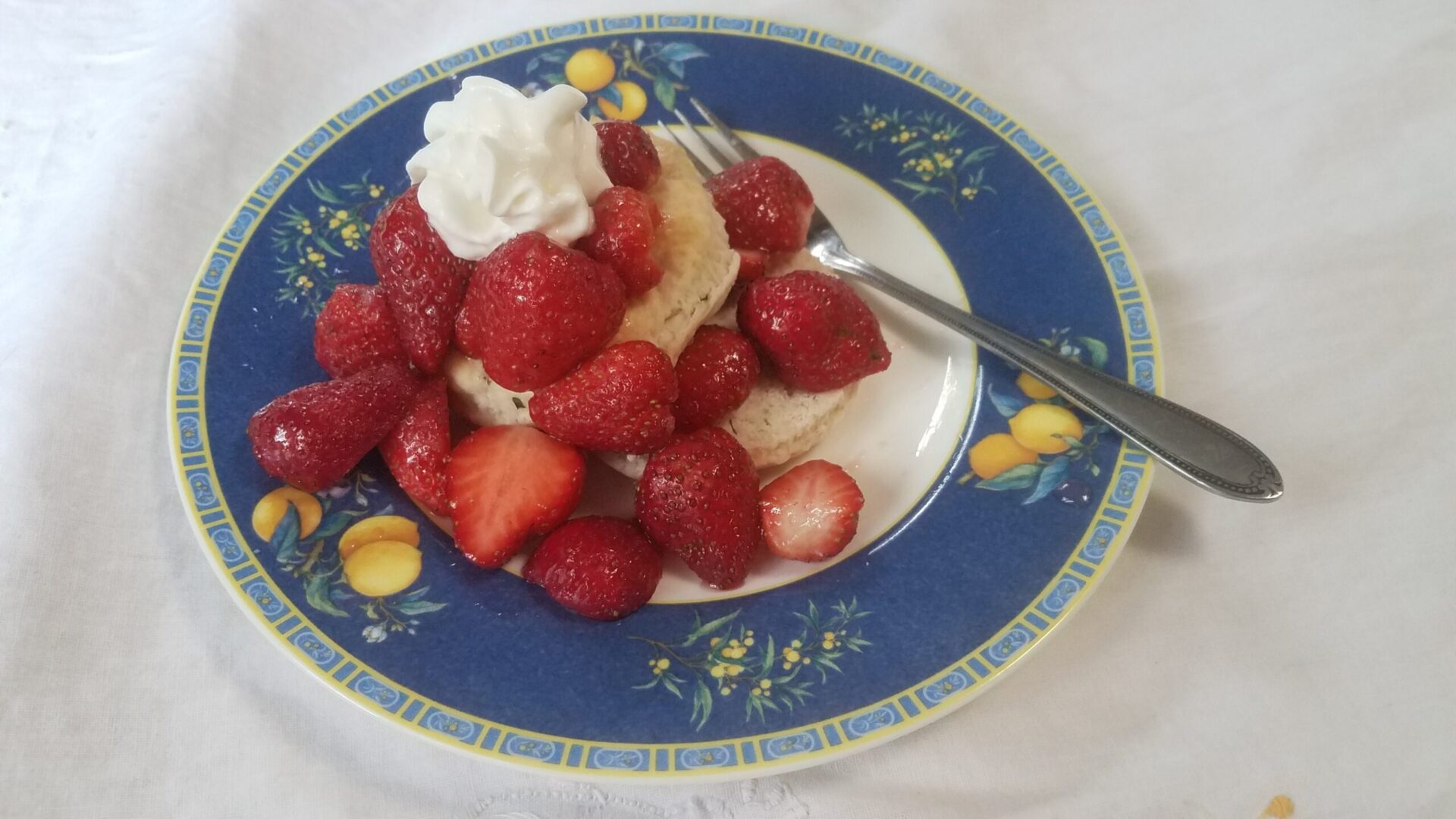 july 3, 2020
Annie Nardone
Berry season finally arrived, ushered in by bright red strawberries found in the green patches at our favorite farm. Strawberry picking has been our yearly tradition each May, a wonderful marker in our year that reminds us of warmer days ahead. We fill our cardboard flats with candy-sweet berries and nibble a few while we listen to the crowing roosters and the low moo of the cows in a nearby pasture.
Our first recipe is strawberry shortcake served after dinner that same night. There is strong debate over the correct shortcake. Some prefer angel food cake slices, others like a thick shortbread. Our old school favorite that gets the vote is a southern biscuit cut in half and piled high with sliced berries, then topped with real whipped cream. This recipe includes a touch of fresh basil in the biscuit, which compliments the sweet berries with a very subtle, savory note.
What you will need:
First: The berries.
1 quart fresh strawberries, stemmed and sliced
1 tablespoon sugar
Gently toss the sugar with the berries and set aside. You can skip the sugar, but it creates a little juice to soak into the biscuit.
Next: The biscuits.
2 cups self-rising flour
¼ cup Crisco shortening
¾ cup milk
4-6 leaves of fresh basil, chopped
Honey
Whipped cream for serving
Heat your oven to 450°. Measure flour into a large bowl. Add basil and toss to coat. Cut the shortening into the flour with a pastry blender until you have a pea-size crumb. Add milk, stirring with large fork until you have a soft dough.
Turn dough out onto a lightly floured surface. Gently knead five or six times until smooth. Roll dough to ½ thickness. Cut into circles using a 2" cutter or drinking glass. Place circles on baking sheets with sides slightly touching.
Bake 10-12 minutes until golden brown. Set biscuits on cooling rack and brush with a little bit of honey. Makes 1 dozen.
Slice the biscuit through the middle and assemble the shortcakes in layers: biscuit, strawberries and their yummy juice, whipped cream, the other biscuit half, more berries, more whipped cream. This is lovely when served with tea for breakfast too!
https://thecultivatingproject.com/summers-strawberry-shortcake/
First published online in The Cultivating Project, July 3, 2020.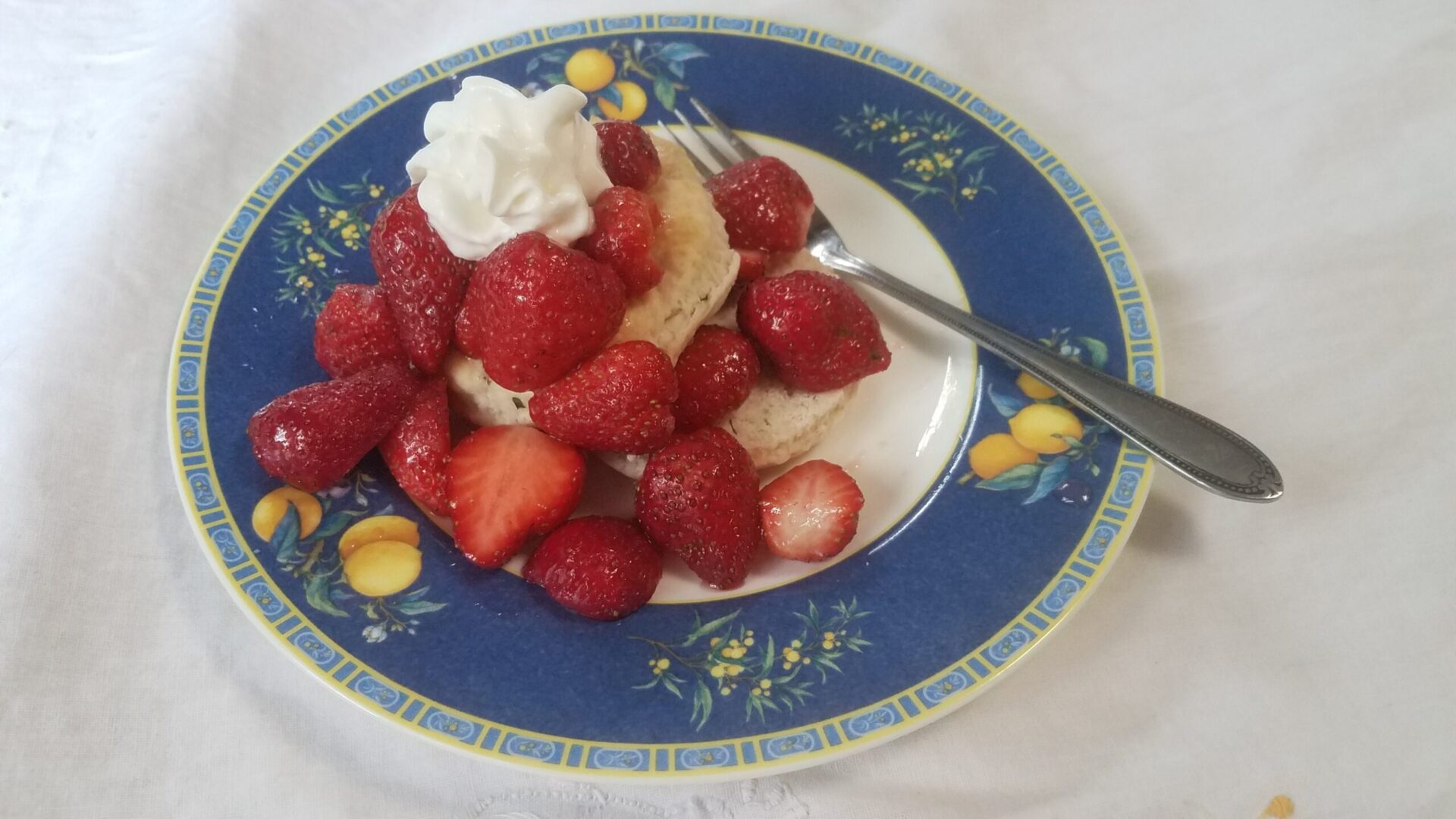 Every Tradition Starts with a First
Pasta with Sausage and Fennel
Annie Nardone – Watching in Wonder Cultivating Winter 2020
Serves 4
Better is a handful of quietness than two hands full of toil and striving after wind.
— Ecclesiastes 4:6 [ESV]
The holiday season is usually filled with expectation. We coddle visions of a Norman Rockwell setting with fresh-faced and rosy-cheeked children, joyful aunts and uncles graced with charming smiles, and extended family gazing upon a festive table. Many times, we end up settling on a reality of splintered gatherings, gravy on the table cloth, and overcommitted families as we attempt to model our holiday meals on high hopes and waning wonder, striving for the perfect Christmas. This is not where our expectation and joy should be grounded. But what if there was a joyful solution, one that would offer all of the holiness of the season and uninterrupted by the regular holiday chaos?
Many years ago I realized that I was striving for a Christmas ideal that just wouldn't happen. Our family was spread over New Jersey, Virginia, Maine, and Minnesota, which would make for a wicked-long drive, crabby children, and little rest for us. Trying to include everyone in our holiday get-togethers left my little family overwrought with expectations, but what to do? Tradition is so important, but all traditions have a starting point. I thought, "Why not start a tradition and make it our own?"
One crisp day in late fall, I decided to head off the coming chaos of the upcoming holiday season by claiming a day as our own. As I paged through a cooking magazine, I was captured by an article about a little Italian town and all of the holy days that they celebrate — each one held in solemnity and joy, with hearts directed to the holiness of the day. And of course, no celebration is complete without wonderful dishes made with timeless recipes. Families gather around a table and pray, then eat, laugh, tell stories of bygone years, and the only thing missing is commercialism.
One feast day is Epiphany, January 6th, the feast in honor of the Three Kings who watched a bright star in wonder and followed it to find the infant Jesus. We embraced Epiphany as our new tradition — celebrating the season with family, friends, and traditional food — while imagining what wonders were beheld by the kings who sought after a wonderful star over 2,000 years ago.
This recipe for fennel and sausage is the Italian dish that sets Epiphany apart from other holiday. One wonderful quality of Italian cooking is its ease and flexibility. The recipe is delicious made according to directions, but if your taste leans to more fennel, more sausage, more spice, less spice, an extra splash of cream, you can adjust the ingredients.
Perhaps this is the year when your routine is scuttled and you are not sure how you will make your holiday as special as in the past. Look at this year as a chance to start fresh! Begin with a cherished recipe, a food that reflects the heritage of your family, or something you have always dreamed of making, but never had the opportunity before. Then find a new day to celebrate during the holidays, perhaps Boxing Day or a holy day leading to Epiphany. Embrace the wonder of a new tradition that reflects your heart and can be joyfully shared with others.
Fennel and Sausage 
What you need:
1 lb. mild or hot Italian sausage, your preference
4-6 cloves garlic, peeled and chopped
¼ c. Pernod (licorice-flavored cordial, optional)
1 bunch fennel, entire bulb and fronded top, trimmed and coarsely chopped
½-1 c. strong beef stock
salt and crushed red pepper
freshly ground black pepper
1 lb. farfalle (bow tie) pasta
½ c. heavy cream
How to prepare:
Remove and discard the casings from the sausage. Place sausage in a large skillet and chop while simmering over medium heat until browned.
Add garlic, stir and cook for another two minutes until garlic is fragrant.
Stir in Pernod, fennel, and stock, and cook until fennel is tender, about 10 minutes, stirring occasionally.
Season to taste with salt, red pepper, and black pepper. Turn to low simmer and cover.
Meanwhile, cook pasta in a large pot of boiling salted water until al dente, then drain. Stir the cooked pasta and cream into the sauce, season and stir gently. Serve on a shallow platter.
Fragrant Harbinger of the Holidays
Biscotti Toscani
Annie Nardone
If more of us valued food and cheer and song above hoarded gold, it would be a merrier world.
— J.R.R. Tolkien, The Hobbit
The fragrance of orange, almond, and nutmeg waft through the house, luring my kids from bed early in the morning. This aroma that has been an integral part of our family's holiday season since before the kids were born. It's biscotti day, the special time each December when I devote a day to baking batch after batch of biscotti. These Italian cookies will be tucked into festive baggies for gift giving and placed on a china dish for snacking, to dip in a cup of coffee or rich hot cocoa. This delicious smell, which is a harbinger of the coming holidays, is the surest sign in our house that Christmas is just around the corner.
Sweet scents and buttery hands take me back to when I was little and my mom participated in the popular party of the 1970s — the cookie exchange. When mom pulled that slightly dented tin cookie press off of the top shelf, the joy and wonder of the season began in a cloud of flour and sprinkles. Mom dedicated a day to making spritz cookies, squeezing that stiff dough through the tiny holes in the cookie press into the shapes of trees, wreaths, and snowflakes. My task was to add colored-sugar sprinkles or those wee, silver-coated nonpareils. Forming the cookies was a two-person task because the dough was chilled and the press was small. This would lead to cramping hands and a mildly churlish attitude about the entire process, so my parents would trade off extruding the dough.  A cookie exchange party requires baking dozens of one kind of cookie, then plating and bagging a dozen per attendee with an additional dozen for serving at the party. Multiply dozens of cookies by three events and one can understand why baking was an all-day occasion. If only we had known about the ease of biscotti!
This is the traditional Italian biscotti recipe that I began baking when I was short on finances but long on Christmas joy with the love of sharing home baked treats. (In fact, this biscotti was shared at a cookie exchange or two when I was first married.) What could I offer to my friends and family that would be a little different than the typical Christmas cookie? I needed an option that would bake up quickly and keep well. Unlike store bought biscotti slices, which are rock hard, this homemade biscotti is an ideal dunker with a dry but tender crumb. My recipe can be double-batched; in fact, that is what I always do. I set aside (and my family happily anticipates!) 'biscotti day' in December and bake several batches in a single day. The kitchen is filled with warm smells of almond and spices, and the tables are covered with bowls heaped with biscotti just waiting to be shared.
Biscotti Toscani
The ingredients:
½ c. sliced almonds
1/3 c. softened butter
¾ c. sugar
2 eggs
1 tsp. vanilla extract
1/2 tsp. almond extract
2 tsp. grated orange zest
2 ¼ c. all-purpose flour
1 ½ tsp. baking powder
¼ tsp. nutmeg
¼ tsp. salt
The process:
Place almonds on a shallow pan or cookie sheet and bake in a preheated 325 degree oven until golden brown, about 6-8 minutes, taking care that they don't overbake. Remove from oven and set aside to cool.
In a mixing bowl, cream butter and sugar until light and fluffy. Beat in eggs, vanilla, almond extract and orange zest.
In another bowl, combine the flour, baking powder, nutmeg, and salt. Add to creamed mixture, mixing until blended.
Fold in almonds.
Divide dough in half and place both on a greased baking sheet.
Wet hands with a little water and form dough into two logs about 1 inch thick, 3 inches wide, and 12 inches long, space about 2 inches apart.
Bake in the middle of a preheated 325 degree oven for 25 minutes, until light golden brown. Transfer from the baking sheet to a cutting board and let rest about 5 minutes.
Using a butcher knife, quickly cut the log into 1 inch slices and lay them flat on the baking sheet, return to oven for 10 minutes to dry slightly.
Remove from oven and let cool. Store in a tightly covered container. Makes approximately 3 ½ dozen biscotti slices.
Miss Lucy's Pumpkin Bread Legacy
by Annie Nardone
No one who cooks, cooks alone. Even at her most solitary, a cook in the kitchen is surrounded by generations of cooks past, the advice and menus of cooks present, the wisdom of cookbook writers.
— Laurie Colwin, presented with the James Beard Award for Cookbook Hall of Fame
Transitions can be tough, especially if that transition involves moving to an unfamiliar place. The ordinary markers in the day, like the fragrance of supper simmering on the stove or the pleasant background music from the radio, are absent. Quite often, the surest way to settle in comes through a particular scent of a familiar food.
One of the things I missed most when I started my college life away from home was the smell of home cooking, especially in the autumn. Not only the rich smells of cinnamon, ginger, and baked treats, but stew meats with vegetables and home-canned tomatoes. My roommate and I did the best we could to figure out a balm for our homesick farmland hearts. We set Saturdays aside for a walk to the grocer for supplies, then settle back in the dorm room to cook soup in little hot pots. Tomato broth with a can of mixed vegetables stirred in wasn't high-culinary art, but it smelled like home. We would spread a cloth over a wooden crate, set it with a cola bottle filled with flowers from our walk, and prepare a table as pretty as a café. Soon our dorm neighbors would drift in and share in sweet hospitality. This simple meal restored us, body and soul, and inspired us to think of other ways to bring comfort through food. Now we just needed recipes.
One of my dorm friends attended the Catholic church in our college town, and the members were selling cookbooks as a fundraiser for the parish. I thumbed through the thick, spiral-bound book filled with simple recipes — many that could be made at college. On the reverse side of "Father Blecha's Favorites" with recipes by Lucille Taylor, I noticed the Dedication page.  Featured at the top was a black and white photo of a thin, elderly woman in a plain washdress and posing by a lilac bush. It was Miss Taylor, looking as if she had been hastily taken away from rolling a pie crust and told to "stand over there." The story of her devotion to the church and priest, ministering to them with good food, warmed my heart and her recipes tempted me with thoughts of tasty treats.  Many of the recipes, including the pumpkin bread that is featured below, came from her collection of parish favorites.
The St. Joseph's Parish Cookbook became my first in a long line of church cookbooks that now fill a shelf in my kitchen. Some of the pages are stuck together from years of sitting on floured and buttery counters, but I believe that the mark of a good recipe is measured by the number of stains on its page. Studies are conducted that suggest the smell of cinnamon enhances memory and the ability to process ideas. Sure, there are probably several health benefits to cinnamon — but to me, it nourishes the soul too. Each time I bake this recipe, I think of Miss Lucy, who blessed and fed her small Wisconsin parish and its priest for twenty-three years. By way of her recipes, she brought a touch of home to my college days. Now forty years later, my own collegiate daughter has Miss Lucy's pumpkin bread in her dorm. Warming a slice exudes that wonderful cinnamon aroma that take her memories back to autumns at home, just as it did for me.
Miss Lucille Taylor's Pumpkin Bread
4 eggs
1 15 oz. can of 100% pumpkin
1 c. salad oil
2/3 c. water
3 c. sugar
pinch ground black pepper (this enhances the spice)
1 tsp. nutmeg
1 tsp. cinnamon
1 ½ tsp. salt
2 tsp. baking soda
3 ½ c. flour
Preheat oven to 350°. Grease and flour two large loaf pans.
Beat eggs and then add water, salad oil, and pumpkin. Mix in the sugar, then spices. Finally, mix in the flour one cup at a time until blended. Pour into pans and bake for at least 60 minutes. Check by inserting a toothpick into the center of the loaf. If it comes out clean, the bread is done.